External noise production
The EU rating measures the external noise emissions of the tire in decibels.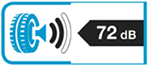 Since many people are unfamiliar with decibel values, the noise class is also shown. This categorizes the tire in relation to forthcoming European tire noise limits. Exterior noise levels are split into 3 categories and measured in decibel (dB) in comparison with the new European tire exterior noise levels to be introduced until 2016.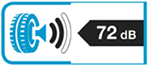 1 black sound wave = 3dB less than the future tighter European limit
2 black sound waves = already compliant with the future European limit
3 black sound waves = compliant with the current European limit

Label values shown are for illustrative purposes only. Values for a certain tire line/size may vary.