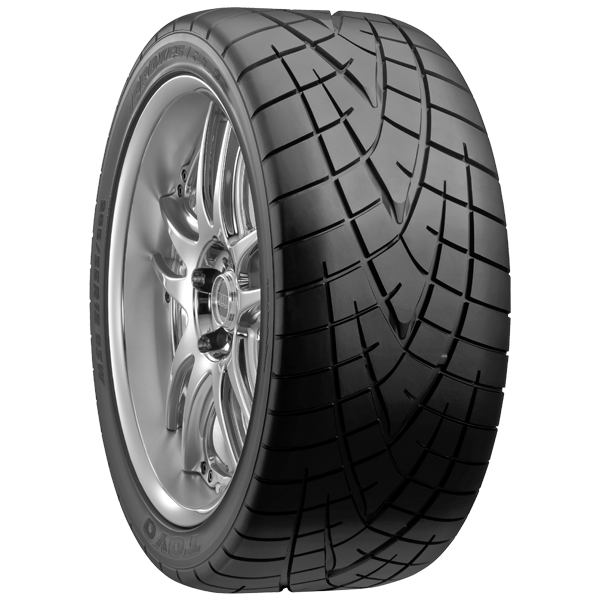 Proxes R1R
From the track to the road, this new extreme high performance tire offers performance at the highest level. Proxes R1R is an uncompromising extreme performance tire designed specifically for grip, handling and steering precision.
Features and benefits
Silica-Reinforced, High-Grip Tread Compound
Improves grip for better handling and performance during high-spirited driving.
Unidirectional Arrowhead Tread Design
Shallow grooves and a unidirectional pattern achieve balanced performance between wet and dry conditions.
Tapered Center Block Edge
Stabilizes center block movement to decrease irregular wear. Helps to increase hydroplaning resistance.
Multi-Width EVAC Channels
Improve water evacuation. Narrow width at the tire edge widens the shoulder block area to enhance steering.
Stability Control Slits
Provide resistance to irregular wear. Improve dry performance by maintaining block stiffness during aggressive braking.
Advanced Autocross-Inspired Casing With Modified Radial Construction
Improves steering response and handling by optimizing the contact patch shape.

Specifications
| Tire Size | Rim Diameter | Load Speed Index | Tread Depth (mm) | Overall Diameter (mm) | Overall Width (mm) | Approved Rim Width Range (inch) | | | | |
| --- | --- | --- | --- | --- | --- | --- | --- | --- | --- | --- |
| 195/55 R15 | 15 | 85V | 6.6 | 595 | 201 | 5.5-6.0-7.0 | F | C | | 71 dB |
| 195/50 R15 | 15 | 82V | 6.6 | 577 | 201 | 5.5-6.0-7.0 | F | C | | 71 dB |
| 205/50 R15 | 15 | 86V | 6.7 | 587 | 214 | 5.5-6.5-7.5 | F | C | | 71 dB |
| 205/55 R16 | 16 | 91V | 6.7 | 632 | 214 | 5.5-6.5-7.5 | F | C | | 71 dB |
| 205/50 R16 | 16 | 87V | 6.7 | 612 | 214 | 5.5-6.5-7.5 | F | C | | 71 dB |
| 205/45ZR16 | 16 | 83W | 6.4 | 590 | 206 | 6.5-7.0-7.5 | F | C | | 71 dB |