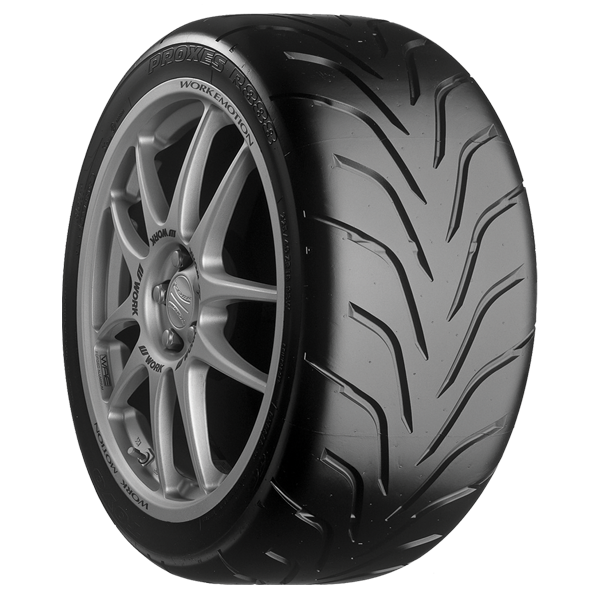 Proxes R888
Proxes R888 was developed to deliver maximum dry handling and quick lap times for racing and track days.

With continuous centre tread and wide shoulders, Proxes R888 offers enhanced track driving.
Proxes R888 is an original equipment option for Renault Megane R26.R
A new version with improved cornering, consistent performance characteristics and longer life becomes available in 2015. Please visit the Proxes R888R page to see the tire.
Features and benefits
Enhanced R-Compound Tread
Maximizes grip for better competitive handling and performance.
Unidirectional V-Shaped Tread Design
Increased tread area and limited void improves dry traction V-shaped grooves assist with wet traction.
Continuous Center Contact
Increases braking performance and dry traction.
Semi-Slick Shoulder Area
Improves grip for better steering response.
Stiff Bead Construction And Wider Tread Width
Increases cornering force for better competitive handling.

Specifications
Tire Size
Rim Diameter
Load Speed Index
Compound
Tread Depth (mm)
Overall Diameter (mm)
Overall Width (mm)
Approved Rim Width Range (inch)
185/60 R13
13
80V
2G
5.0
549
188
5.00-5.5-6.50
F
B
69 dB
185/60 R13
13
80H
SG
5.0
549
186
5.00-5.5-6.50
F
B
70 dB
205/60 R13
13
86H
SG
5.0
572
212
5.50-6-7.50
F
B
70 dB
225/45 R13
13
84V
2G
5.0
529
223
7.00-7.5-8.50
F
C
69 dB
185/60 R14
14
82H
SG
5.0
574
188
5.00-5.5-6.50
F
B
70 dB
185/60 R14
14
82V
2G
5.0
574
188
5.00-5.5-6.50
F
B
70 dB
185/60 R14

*

14
82H
SG
5.0
574
188
5.00-5.5-6.50
-
-
-
-
205/55 R14
14
85V
2G
5.0
579
213
5.50-6.5-7.50
F
B
69 dB
225/50 R14
14
89V
2G
5.0
580
235
6.00-7-8.00
F
C
69 dB
195/55 R15
15
85V
SG
5.0
592
203
5.50-6-7.00
F
B
70 dB
195/50 R15
15
82V
SG
5.0
572
200
5.50-6-7.00
F
B
70 dB
195/50 R15
15
82V
2G
5.0
572
200
5.50-6-7.00
F
C
69 dB
205/50 R15
15
86V
SG
5.0
584
216
5.50-6.5-7.50
F
B
70 dB
215/50ZR15
15
88W
2G
5.0
594
228
6.00-7-7.50
F
C
69 dB
225/45ZR15
15
87W
2G
5.0
579
227
7.00-7.5-8.50
F
C
69 dB
195/50ZR16
16
84W
SG
5.0
598
200
5.50-6-7.00
F
B
70 dB
215/50ZR16
16
90W
2G
5.0
619
228
6.00-7-7.50
F
C
69 dB
225/50ZR16
16
92W
2G
5.0
628
235
6.00-7-8.00
F
C
69 dB
225/45ZR16
16
89W
SG
5.0
605
228
7.00-7.5-8.50
F
B
70 dB
255/50ZR16
16
99W
2G
5.0
657
269
7.00-8-9.00
F
C
69 dB
205/40ZR17
17
84W XL
SG
5.0
598
212
7.00-7.5-8.00
F
B
70 dB
225/45ZR17
17
94W XL
SG
5.0
634
231
7.00-7.5-8.50
F
B
70 dB
245/40ZR17
17
91W
2G
5.0
627
250
8.00-8.5-9.50
F
C
69 dB
275/40ZR17
17
98W
2G
5.0
652
280
9.00-9.5-11.00
F
C
69 dB
315/35ZR17
17
102W
2G
5.0
650
320
10.50-11-12.50
F
C
72 dB
225/40ZR18
18
92W XL
SG
5.0
638
224
7.50-8-9.00
F
B
70 dB
275/40ZR18
18
99W
2G
5.0
678
279
9.00-9.5-11.00
F
C
69 dB
285/30ZR18
18
97Y XL
2G
5.0
631
288
9.50-10-10.50
F
C
72 dB
315/30ZR18
18
98Y
2G
5.0
648
318
10.50-11-11.50
F
C
72 dB
335/30ZR18
18
102Y
2G
5.0
660
338
11.50-12-12.50
F
C
72 dB
245/35ZR19
19
(89Y)
2G
5.0
655
248
8,00-8.5-9,50
F
C
70 dB
265/35ZR19
19
(94Y)
2G
5.2
669
271
9.00-9.5-10.50
F
C
72 dB
325/30ZR19
19
(101Y)
2G
5.2
679
331
11.00-11.5-12.00
F
C
73 dB
* Not subject to EU label regulation
** Newer specification