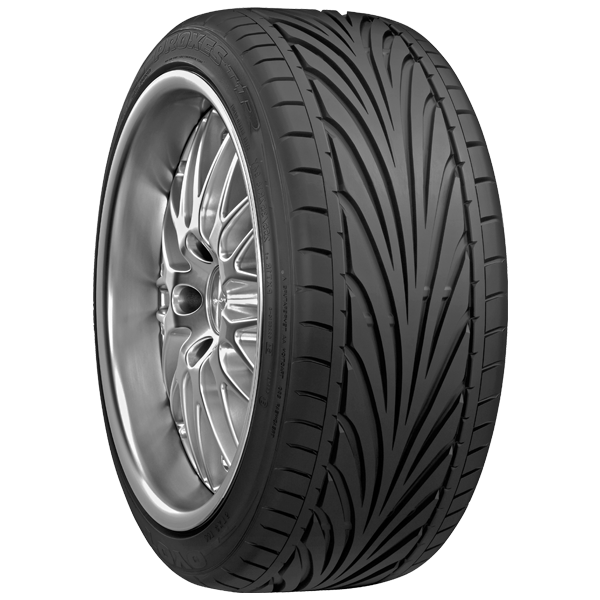 Proxes T1-R
Designed for sportscars, powerful saloons and coupes, Proxes T1-R meets the need for high-speed stability and handling in dry and wet conditions, while retaining low noise and optimum driving comfort.
Superseded now in some sizes by Proxes T1 Sport, Proxes T1R remains a very capable tire with characteristics to match the needs of sports drivers.
Features and benefits
"Generation S" Silica-Reinforced, High-Grip Tread Compound
Increased silica in tread compound improves wet performance while providing excellent dry performance.
Refined Unidirectional Tread Design
Provides excellent dry and wet performance with a modern design.
V-Shaped Main Grooves
Disperse water for better wet performance.
Rigid Shoulder Rib-Bands
Improve cornering for exceptional dry performance. Reduce irregular wear for a smooth, quiet ride.
Parallel Shoulder Slits
Help reduce irregular wear.

Specifications
| Tire Size | Rim Diameter | Load Speed Index | Tread Depth (mm) | Overall Diameter (mm) | Overall Width (mm) | Approved Rim Width Range (inch) | | | | |
| --- | --- | --- | --- | --- | --- | --- | --- | --- | --- | --- |
| 195/55 R14 | 14 | 82V | 8.4 | 568 | 198 | 5.50-6-7.00 | F | C | | 70 dB |
| 195/45 R14 | 14 | 77V | 8.1 | 532 | 195 | 6.00-6.5-7.50 | F | C | | 70 dB |
| 225/40 R14 | 14 | 82V | 8.1 | 535 | 233 | 7.50-8-9.00 | F | C | | 70 dB |
| 185/55 R15 | 15 | 82V | 8.4 | 584 | 192 | 5.00-6-6.50 | F | C | | 70 dB |
| 195/55 R15 | 15 | 85V | 8.4 | 593 | 203 | 5.50-6-7.00 | F | C | | 70 dB |
| 195/50 R15 | 15 | 82V | 8.1 | 576 | 198 | 5.50-6-7.00 | F | C | | 70 dB |
| 195/45 R15 | 15 | 78V | 8.1 | 558 | 195 | 6.00-6.5-7.50 | F | C | | 70 dB |
| 205/55 R15 | 15 | 88V | 8.4 | 605 | 214 | 5.50-6.5-7.50 | F | C | | 71 dB |
| 205/50 R15 | 15 | 89V XL | 8.4 | 587 | 211 | 5.50-6.5-7.50 | F | C | | 70 dB |
| 205/45 R15 | 15 | 81V | 8.1 | 565 | 207 | 6.50-7-7.50 | F | C | | 70 dB |
| 215/45 R15 | 15 | 84V | 8.1 | 575 | 211 | 7.00-7-8.00 | F | C | | 70 dB |
| 225/50 R15 | 15 | 91V | 8.4 | 604 | 230 | 6.00-7-8.00 | F | C | | 70 dB |
| 185/50 R16 | 16 | 81V | 8.4 | 590 | 191 | 5.00-6-6.50 | F | C | | 70 dB |
| 195/55 R16 | 16 | 87V | 8.4 | 618 | 200 | 5.50-6-7.00 | F | C | | 70 dB |
| 195/55 R16 | 16 | 91V XL | 8.4 | 618 | 200 | 5.50-6-7.00 | F | C | | 70 dB |
| 195/50 R16 | 16 | 84V | 8.4 | 600 | 199 | 5.50-6-7.00 | F | C | | 70 dB |
| 195/45 R16 | 16 | 80V | 8.2 | 583 | 195 | 6.00-6.5-7.50 | F | C | | 70 dB |
| 195/40 R16 | 16 | 80V XL | 8.2 | 560 | 204 | 6.50-7-7.50 | F | C | | 70 dB |
| 205/55ZR16 | 16 | 91W | 8.4 | 630 | 212 | 5.50-6.5-7.50 | F | C | | 70 dB |
| 205/50ZR16 | 16 | 87W | 8.4 | 609 | 214 | 5.50-6.5-7.50 | F | C | | 70 dB |
| 205/45ZR16 | 16 | 87W XL | 8.2 | 590 | 209 | 6.50-7-7.50 | F | C | | 70 dB |
| 215/40ZR16 | 16 | 86W XL | 8.2 | 578 | 222 | 7.00-7.5-8.50 | F | C | | 70 dB |
| 225/50ZR16 | 16 | 92W | 8.4 | 628 | 233 | 6.00-7-8.00 | F | C | | 70 dB |
| 225/45ZR16 | 16 | 93W XL | 8.1 | 608 | 227 | 7.00-7.5-8.50 | F | C | | 70 dB |
| 225/40ZR16 | 16 | 85W | 8.1 | 586 | 234 | 7.50-8-9.00 | F | C | | 70 dB |
| 235/50ZR16 | 16 | 95W | 8.4 | 639 | 246 | 6.50-7.5-8.50 | F | C | | 70 dB |
| 245/55ZR16 | 16 | 100W | 8.4 | 671 | 254 | 7.00-7.5-8.50 | F | C | | 70 dB |
| 245/45ZR16 | 16 | 94W | 8.1 | 625 | 244 | 7.50-8-9.00 | F | C | | 70 dB |
| 245/35ZR16 | 16 | 86W | 8.1 | 578 | 244 | 8.00-8.5-9.50 | F | C | | 70 dB |
| 205/45ZR17 | 17 | 88W XL | 8.2 | 616 | 208 | 6.50-7-7.50 | F | C | | 70 dB |
| 205/40ZR17 | 17 | 84W XL | 8.2 | 600 | 219 | 7.00-7.5-8.00 | F | C | | 70 dB |
| 215/45ZR17 | 17 | 91W XL | 8.1 | 626 | 211 | 7.00-7-8.00 | F | C | | 70 dB |
| 215/40ZR17 | 17 | 87W XL | 8.2 | 604 | 222 | 7.00-7.5-8.50 | F | C | | 70 dB |
| 225/45ZR17 | 17 | 94Y XL | 8.1 | 633 | 222 | 7.00-7.5-8.50 | F | C | | 70 dB |
| 225/45ZR17 | 17 | 94W XL | 8.1 | 633 | 222 | 7.00-7.5-8.50 | F | C | | 70 dB |
| 235/45ZR17 | 17 | 97Y XL | 7.5 | 644 | 238 | 7.50-8-9.00 | F | C | | 70 dB |
| 245/35ZR17 | 17 | 87W | 8.2 | 604 | 245 | 8.00-8.5-9.50 | F | C | | 70 dB |
| 205/35ZR18 | 18 | 81Y XL | 8.1 | 601 | 212 | 7.5 | F | C | | 70 dB |
| 215/35ZR18 | 18 | 84W XL | 8.1 | 608 | 219 | 7.00-7.5-8.50 | F | C | | 70 dB |
| 225/40ZR18 | 18 | 92Y XL | 8.1 | 637 | 231 | 7.50-8-9.00 | F | C | | 70 dB |
| 235/30ZR18 | 18 | 85Y XL | 8.1 | 599 | 235 | 8.5 | F | C | | 70 dB |
| 255/45ZR18 | 18 | 99Y | 8.1 | 686 | 250 | 8.00-8.5-9.50 | F | C | | 72 dB |
| 275/40ZR18 | 18 | 99Y | 8.1 | 673 | 275 | 9.00-9.5-11.00 | F | C | | 71 dB |
| 285/40ZR18 | 18 | 101Y | 8.0 | 683 | 290 | 9.50-10-11.00 | F | C | | 71 dB |
| 295/35ZR18 | 18 | 103Y XL | 8.0 | 661 | 296 | 10.00-10.5-11.50 | F | C | | 75 dB |
| 245/45ZR19 | 19 | 102Y XL | 8.2 | 705 | 238 | 7.50-8-9.00 | F | C | | 70 dB |
| 275/40ZR19 | 19 | 101Y | 8.2 | 701 | 274 | 9.00-9.5-10.50 | F | C | | 71 dB |
| 285/35ZR19 | 19 | 99Y | 8.0 | 682 | 285 | 9.50-10-11.00 | F | C | | 71 dB |
| 315/25ZR19 | 19 | 98Y XL | 8.0 | 640 | 324 | 11.00-11.5-12.00 | F | C | | 75 dB |
| 245/40ZR20 | 20 | 99Y XL | 8.1 | 704 | 248 | 8.00-8.5-9.50 | F | C | | 70 dB |
| 285/25ZR20 | 20 | 93Y XL | 8.2 | 649 | 292 | 10.5 | F | C | | 75 dB |
| 305/30ZR20 | 20 | 103Y XL | 8.0 | 692 | 313 | 10.50-11-11.50 | F | C | | 75 dB |
| 305/30ZR20 | 20 | 103Y XL | 8.2 | 692 | 313 | 10.50-11-11.50 | F | E | | 72 dB |
| 305/25ZR20 | 20 | 97Y XL | 8.0 | 660 | 310 | 10.50-11-11.50 | F | C | | 75 dB |
| 315/25ZR20 | 20 | 99Y XL | 8.0 | 669 | 320 | 11.00-11.5-12.00 | F | C | | 75 dB |
| 345/25ZR20 | 20 | 104Y XL | 8.2 | 680 | 346 | 12.00-12.5-13.00 | F | C | | 75 dB |
| 255/30ZR21 | 21 | 93Y XL | 8.1 | 688 | 260 | 8.50-9-9.50 | F | C | | 73 dB |
| 285/30ZR21 | 21 | 100Y XL | 8.2 | 707 | 284 | 9.50-10-10.50 | F | C | | 75 dB |
| 295/25ZR21 | 21 | 96Y XL | 8.0 | 685 | 297 | 10.00-10.5-11.00 | F | C | | 75 dB |
| 255/30ZR22 | 22 | 95Y XL | 8.2 | 713 | 254 | 8.50-9-9.50 | F | C | | 73 dB |
| 265/30ZR22 | 22 | 97Y XL | 8.2 | 721 | 267 | 9.00-9.5-10.00 | F | C | | 73 dB |
| 265/30ZR22 | 22 | 97Y XL | 8.2 | 721 | 267 | 9.00-9.5-10.00 | F | E | | 72 dB |
| 285/25ZR22 | 22 | 95Y XL | 8.0 | 701 | 290 | 10.5 | F | C | | 75 dB |
| 295/25ZR22 | 22 | 97Y XL | 8.0 | 708 | 293 | 10.00-10.5-11.00 | F | C | | 75 dB |
** Newer specification